To keep up to-date on all local issues that Cormac is covering in your area, please sign up to receive his regular e-Bulletin: Click here


Local Councillor, Cormac Devlin (FF) has criticised the Council and the Railway Procurement Agency (RPA) for not providing adequate car parking / park and ride facilities at the new Cherrywood & Brides Glen LUAS stops.

Cllr. Devlin stated that the two agencies had years of pre-planning to ensure that the correct provisions were put in place for the obvious demand that would be generated once the LUAS became fully operational. Cllr. Devlin quizzed Council chiefs on their discussions with the RPA prior to the opening of the LUAS stops in Brides Glen & Cherrywood.

The following motion was placed on the February Council agenda;

Motion: Councillor Cormac Devlin

That the Manager explain the Council's rationale of providing no underground or surface car parking in the proximity of any of the new Luas stops (between Sandyford and Brides Glen) and what is the Council's current plans to alleviate the regular parking chaos in the Cherrywood area at present.

Council Report:

The Council is not responsible for the provision of park and ride facilities for the LUAS service. All existing park and ride facilities have been provided by the Railway Procurement Agency, who have recently been granted planning permission to construct a 350 space facility at Carrickmines.

Planning permission has also recently been granted for a temporary 78 space car park at Murphystown Road.

A planning application for a proposed 197 space public park and ride car park at Brides Glen LUAS stop at Cherrywood has recently been made by Dunloe Management Services. This application is being processed.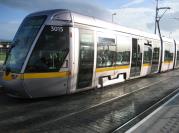 DEVLIN CRITICAL OF LACK OF PARKING AT LOCAL LUAS STOPS