Government Announces Details

for 90th Anniversary of

the Easter Rising

February 2006

Dún Laoghaire Councillor Cormac Devlin has welcomed the announcement by An Taoiseach Bertie Ahern TD that an official state parade will be organised to commemorate the 1916 Easter Rising in Dublin on Sunday 16th April, 2006 marking the 90th Anniversary of the Rising. The Taoiseach last October announced the proposal while recently he outlined the various activities scheduled for the day the proposed route the parade will take.

"I am particularly delighted to know that the Defence Forces and An Garda Síochána will be involved in this parade" Councillor Devlin remarked. He said that the plan at present was to have the Defence Forces with approximately 2,500 personnel representing all branches of the PDF together with representatives of ex-service personnel and veterans of UN service will participate in the commemoration  The Parade will also include members of the Garda Síochána, representing their service abroad with the United Nations. An aerial fly past by the Aer Corps is also envisaged.

The parade will depart from Dublin Castle, pass through Dame Street, College Green and O'Connell Street.  There will be a reading of the Proclamation outside the GPO and appropriate military honours will be rendered. This 90th Anniversary of the Rising will also be marked by a wreath laying in Kilmainham Gaol earlier that morning.

Also in early April, the National Museum of Ireland at Collins Barracks will be presenting a newly prepared exhibit relating to the Rising, following the transfer of the 1916 room from the Museum Building in Kildare Street. A special commemorative stamp will be issued by An Post to mark the Anniversary.

Councillor Devlin has welcomed the announcement of the parades details and hopes that these events will be well publicised so that members of the public are aware and can attend the various activities that are organised. "This is a very important date in our Nations calendar and I am delighted to see such a large effort being made by the Government to commemorate this, the 90th Anniversary of the Rising" concluded Councillor Devlin.

For more information please visit: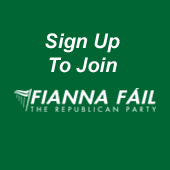 Cllr. Cormac Devlin, "Saint Michaels", Glenageary Avenue, Dún Laoghaire, Co. Dublin

Telephone: +353 (1) 275 0786 Email cormacdevlin@ireland.com

.