MINISTER AHERN

MAKES A STATEMENT ON

THE RIOTS IN DUBLIN

February 2006

Councillor Cormac Devlin has published a statement by Minister for Foreign Affairs Mr. Dermot Ahern TD on the riots in Dublin last Saturday, 25th February:

"The disgraceful scenes last Saturday in Dublin were an attempt to stoke sectarian tension on our streets.

It was an attempt to bring the same tensions to our capital city, which others, of both communities, are forced to endure daily in the North. It was a crass and deeply misguided attempt to radicalise, to drive people to the extremes.

The scenes on Saturday must bolster our determination to stamp out sectarianism throughout the island.

It must end all tolerance of those who seek to gain from the political narrative of Catholic versus Protestant, Irish versus British, Unionist versus Nationalist.

There can be no place in modern Ireland for sectarian attacks, or efforts to exploit such attacks for political gain.

I wonder did any of those heroes from Saturday's riots who sullied our national flag by covering their faces with it or with tricolour scarves as they pelted our Gardai with bricks and stones ever closely examined what the colours of our national flag represents. Our proud tricolour stands for real Republican values – the very antithesis of what these rioters perpertrated."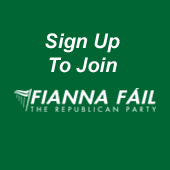 Cllr. Cormac Devlin, "Saint Michaels", Glenageary Avenue, Dún Laoghaire, Co. Dublin

Telephone: +353 (1) 275 0786 Email cormacdevlin@ireland.com

.